aboutus
The Law Office was founded in 2005, out of inspiration stirring from our readiness to provide legal advice while maintaining direct contacts with our Clients and flexibly responding to their needs. Our partners combine theoretical legal knowledge with professional experience and understanding of business practices gained while working for foreign and Polish law offices and consulting companies.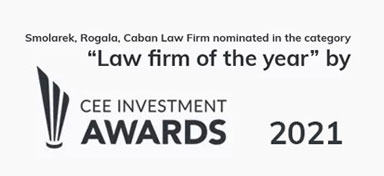 real estate and investment projects
personal data protection; e-privacy

The Law Office "Smolarek, Rogal, Caban – Adwokaci i Radcowie prawni Sp.p.", ul. Emilli Plater 28, 00-668 Warszawa, is the personal data controller.
Your personal data will be processed exclusively in order to answer your questions, always in compliance with the
Privacy Policy
.
Substantial experience of the team, as well as multitude and variety of projects in the office, retail and hotel real estate market and renewable energy sector, on which our lawyers worked, resulted in another nomination of SRC for the "Law Firm of the Year" in 2022...
read more